From setting up basic school infrastructure over 20 years ago, TRF now focusses on learning outcomes among students of migrant worker families, whose education gets disrupted because of seasonal migration and loss of work. In Rajasthan's Chaksu TRF supports non-formal schools in brick kilns, and in Gurgaon TRF supports an Assisted Reading Program in the government primary school in Mullahera village
Brick Kiln Schools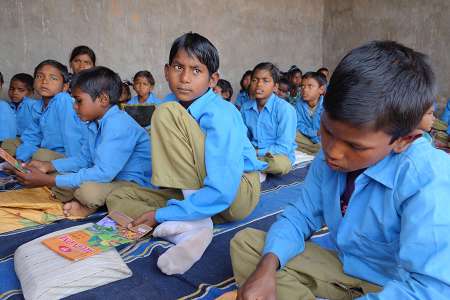 In recent times there is a growing awareness about the hazards of children working and not going to school. Both Government and Non-Governmental Organizations are involved in the process of increasing the enrolment of children who have been left out in the process. One of the important sectors of working children being neglected is the child in the brick industry. The children who work in brick industries are the children of migrant laborers; they accompany their parents to the brick chambers and help their parents in their work. Since it is piece rate work these children do not get their wages in their hands; usually their parents get it.
The Brick Kiln School project works towards ensuring education to the children of migrant workers in the brick kilns of Chaksu, Rajasthan. In partnership with Kumarappa Institute of Gram Swaraj (KIGS), Jaipur, TRF is running 2 non-formal education centres in two brick kiln sites. These children, numbering about 100, are migrants from UP, Bihar & Madhya Pradesh who migrate with their families and are first generation learners. TRF's future plans include expanding this program to other brick kilns sites in the area. Six teachers have been posted in these schools depending upon the number of students. One teacher is available for approximately 30 students, these children are given, often reluctantly, a four-hour window of education in their work-filled day and night.
The Radio School Project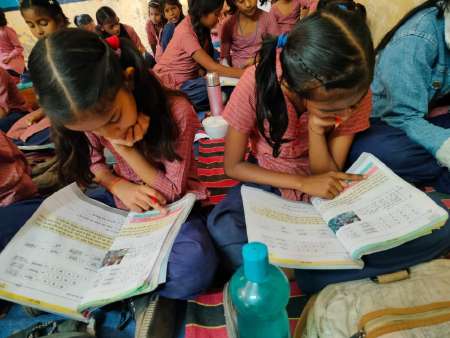 The problem: During the Covid-19 lockdown, when schools were closed and students were either locked inside their homes in Gurgaon or had moved back to their home states with their families, the gap in reading and comprehension skills between children in government primary schools became even more pronounced. This divide was particularly evident when students returned to school in the summer of 2022 for Class 3, as they had missed their first two years of education due to the pandemic (April 2020 to April 2022). A large number of students were unable to attend online classes because their parents did not own a smartphone.
The intervention: Learning to read for most children typically begins by hearing words or stories read aloud. Gradually, they learn to connect the sounds they hear with the patterns of words on the page, which eventually leads to reading. In order to improve the reading and comprehension skills of primary school children, (TRF) initiated a pilot project called "Radio School" during the summer of 2022 through our community radio station, Gurgaon Ki Awaaz. The project is both in-classroom and on radio and aims to assist children in linking sounds to words and patterns on the page, which is an essential aspect of learning to read. This is achieved through an Assisted Reading Programme that includes listening to stories from prescribed textbooks and Pratham story cards over the radio. The children can listen to these stories both during and outside of school hours, and they can participate in the program live on the radio to improve their self-confidence and speaking abilities. Additionally, TRF's team member is working closely with the teachers to provide in-person classroom support to bridge the gap between children who can read and those who cannot even identify alphabets.
In this project we are working with the students of Class 3 in the government Model Sanskriti Girls Primary school, Village Mullahera, Gurgaon, Haryana and in partnership with the District Education Officer, Gurugram